What Shipping Services Does AliExpress Use?
What is AliExpress?
As mentioned in the last blog, AliExpress, a worldwide shopping website, is a wonderful land for shopaholic all over the world. Nothing you need can't be found here. The more important thing is, the price is nice and lovely! Especially in sale seasons.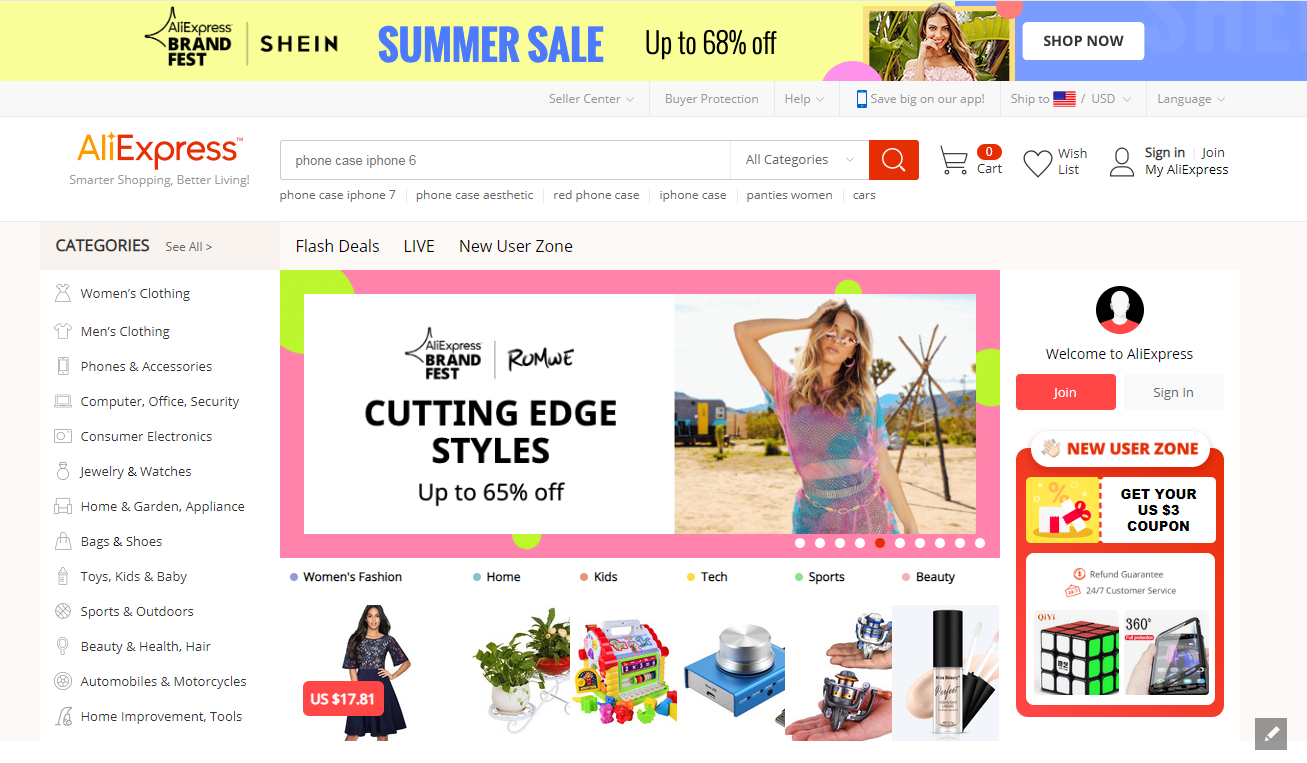 What shipping services does AliExpress offer?
Being immersed in the happiness of shopping, it's easier for us to ignore the shipping services we choose when placing the order. It's not always "Free Shipping" when buying something. Except for some basic "Free Shipping" services like Seller's Shipping Method, China Post Ordinary Small Packet Plus, China Post Air Mail, Yanwen Economic Air Mail, Cainiao Super Economy, ePacket, etc. It depends on the address you choose to receive your package. The available shipping services and the additional shipping fee will be different in different AliExpress stores you shop, or even the product you choose. You can check the details(shipping cost, estimated delivery time, etc) from the section of Shipping & Payment on the product details page.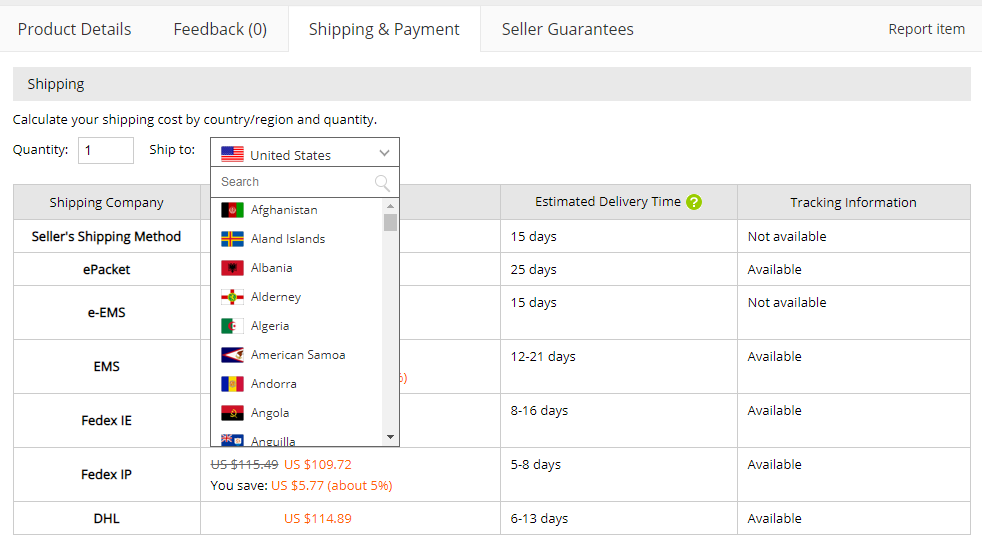 Free Shipping or Paid Shipping?
You may wonder, if it says "Free Shipping", why should I choose other paid shipping services?
If you have checked the chart as above, you must have found that one of the biggest difference is the "Estimated Delivery Time". Although "Free Shipping" saves money, but it usually needs more time for having your package delivered. Let's take this screenshot as an example.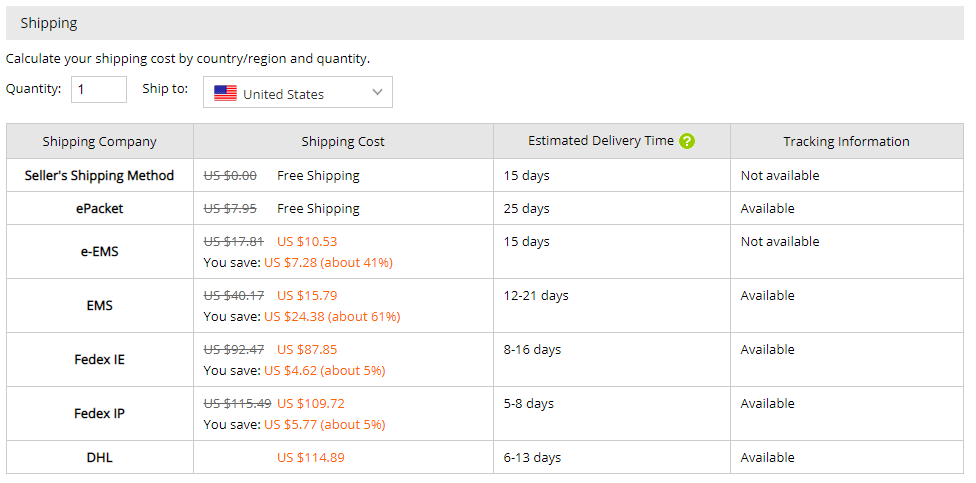 Seller's Shipping Method seems to be a good choice, but unfortunately, it's not available.
If you still prefer "Free Shipping", except ePacket, you have no choices. But it might take 25 days to receive your package.
So you can choose other paid shipping services to shorten the delivery time and get your package delivered earlier. In this example, you can choose EMS, FedEx IE, FedEx IP and DHL(e-EMS is not available).
Considering the price, it seems to be much more acceptable to choose EMS if you're a little bit urgent. Otherwise, you can stick to ePacket still for simply waiting for a few more days if it won't affect the whole.
Does that mean, I can only wait if I prefer Free Shipping with quicker delivery time?
Not always!
If you're a big buyer or a potential big buyer, you can try to contact the seller and ask if a discount is available for a certain number of products. There might be hidden coupons, special discount, etc... Before placing the order, it's doesn't hurt to take every chance to talk to the seller and ask everything you may wonder! It may spend more time beforehand, but it definitely saves much more time and energy once it ends with any misunderstandings.
After placing the order, the only thing you need to do is wait for the delivery. Waiting can be tedious, but you can try this tool to make sure that every detail of your package can be under your control.
Copy your AliExpress tracking number

Paste it here: https://www.tracktry.com/couriers/cainiao

Click "Track" and everything you want will be shown immediately!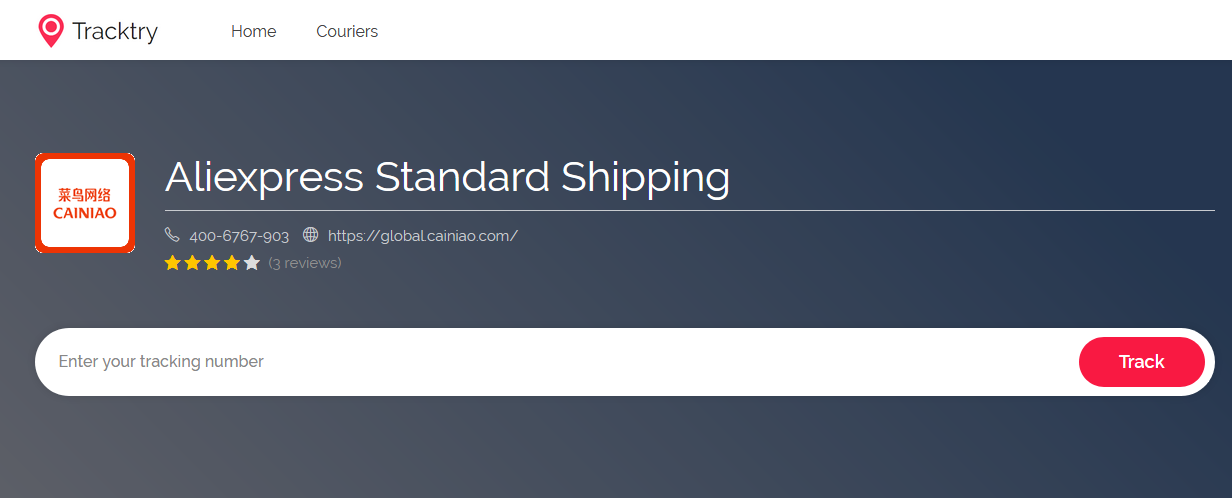 Feeling tired of remembering the website all the time? Visit our Facebook Page and try our tracking bot! To find out how to use it, you can refer to this blog for detailed instructions.